Tanzania
The Oryx brand is well-known in Tanzania, where it is a market leader in fuels, LPG and lubricants distribution.
Oryx Energies offers an integrated supply, storage and distribution model, providing a full range of products and services to domestic and industrial customers. These include fuels sourcing, strategic storage facilities, wholesale distribution, retail service stations, LPG storage, filling and distribution, high quality lubricants from our own blending plant, and a full range of products and services for commercial and industrial clients (including on-site management and logistics).
We have been present in the country since 1999, when Oryx acquired Agip's assets in the country. The size of the country and its strategic port in the capital, Dar es Salaam, make Tanzania an important market and point of access to East Africa, including the landlocked Great Lakes countries. Over the years, we have continued to invest and expand in the country and in East Africa.
More details about Oryx Energies in Tanzania
Oryx Energies is represented in Tanzania through 4 separate entities.
Oryx Energies Tanzania Limited: specialised in the storage and distribution of fuels, with a strong presence in the retail segment and, above all, as a supplier of choice to the industrial and mining sectors.
Oryx Services and Specialities Ltd: specialised in the blending of the full range of lubricants of the Oryx Energies brand, as well as for third parties through our own blending plant in Dar es Salaam. The company is also responsible for the additional services offered to our customers, including the transport of products.
Oryx Gas Tanzania Ltd: specialised in the storage, filling and distribution of LPG in cylinders and bulk. Oryx Gas Tanzania Ltd is the undisputed market leader in LPG.
Tiper (Tanzania International Petroleum Reserves Ltd), a 50/50 joint venture with the Government of Tanzania. Tiper is a former refinery that has been turned into a modern tank farm providing mass storage to all trading and marketing companies looking for storage capacity.
Storage terminal: In Dar es Salaam, Oryx Energies jointly owns (with the Tanzanian government) and manages one of the largest bulk import and storage sites in sub-Saharan Africa, TIPER. The facility offers hospitality to all oil marketing companies operating in the country. TIPER was afforded access to a Single Point Mooring (SPM) by the Tanzanian authorities from November 2012, providing a single buoy where all large incoming vessels have to offload.
Oryx Energies also has its own dedicated import terminal in Dar es Salaam for bulk fuels and additional lubricant storage.
TIPER was afforded access to a Single Point Mooring (SPM) by the Tanzanian authorities from November 2012, providing a single buoy where all large incoming vessels have to offload. This aims to facilitate the control and taxation of products by the Tanzanian authorities and is expected to save on transportation and offloading times and costs. TIPER also benefits from bonded warehouse status, since 2011, allowing third parties to further expand regional fuel supply opportunities from its facilities.
Fuel distribution: Oryx Energies is a partner of choice for the supply of fuels and lubricants to commercial and industrial customers around the country. These include civil engineering contractors, hotels and restaurants, power supply and generation companies, manufacturing and production companies, transporters and mining companies. We also install and manage on-site fuel storage and dispensing equipment, including lubricants, for a number of large customers, incorporating specialised industry expertise where necessary.
Oryx Energies also has fuel storage depots strategically placed around the country to ensure that inland customers also receive a continuous and reliable supply. These facilities also handle lubricants and LPG for the local market. In addition, we distribute bulk fuel to independent resellers, who manage their own service stations.
LPG: Oryx Energies is the market leader in Liquefied Petroleum Gas (LPG) in Tanzania and continues to invest in the expansion of its network.
We store, bottle and distribute LPG from our gas terminal and filling plants in Dar es Salaam, Moshi, Mwanza and Mbeya, actively promoting LPG as an alternative to fossil fuel usage (in particular firewood and charcoal). The cylinders are distributed via our retail network and appointed dealers.
We also provide bulk deliveries of LPG, including the installation and management of LPG tanks in schools, universities, hospitals, manufacturing and processing plants, and for forklift trucks. In addition, we export LPG to neighbouring countries such as Kenya, Uganda and Rwanda.
Lubricants: Oryx Energies supplies a wide range of high quality lubricants mostly from its state-of-the-art lubricant blending plant in Dar es Salaam. Customers for our products include industries such as construction, mining, transport and marine companies, resellers, retail outlets and export clients. Our lubricants facility also blends and packages product on behalf of third parties, including oil majors.
Retail network: Oryx Energies has a retail network throughout Tanzania, which supplies fuels, LPG and lubricants to the domestic market.
Fuel sourcing: Oryx Energies' trading arm (Addax Energy) sources product for its storage and distribution activities, and supplies third party importers. It systematically participates in the National Bulk Procurement System through which all products are imported into the country and is often awarded the benefit of the tenders. It is currently one of the largest product suppliers in the country.
Products and services:
Fuels

LPG

Lubricants

Retail network

Storage

Fuel sourcing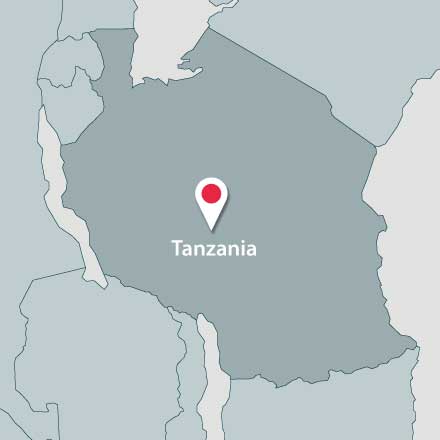 Key facts
307,810 m3

fuel storage capacity

8,340 M3

LPG storage capacity

30,000 MT

lubricants production capacity

Contact us for more info: info@oryxenergies.com